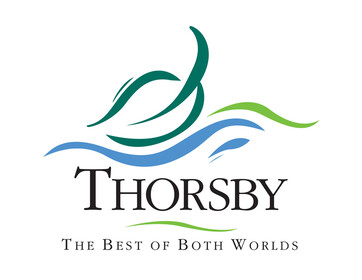 Following a year long engagement with residents, at the June 28, 2016 Regular Meeting, Council carried the motion to apply to the Minister of Municipal Affairs to change the status of Thorsby from Village to Town.
Earlier this year Thorsby received confirmation from the government that the census undertaken in 2015 had been accepted and that the official population is now recognized as 1,025. Council believes that becoming a Town will be an important economic driving factor for the Thorsby Community. Becoming Alberta's newest Town will demonstrate our strength and growth to a greater audience and position Thorsby well for the future.
Geographically, Thorsby is well situated in relation to the larger municipalities of Edmonton and the City of Leduc to continue to attract those who seek a small town feel within easy commuting distance. The latest data from the Capital Region Board Growth Plan Update indicates that Thorsby will continue to grow over the next 30 years and their modeling predicts that Thorsby's population will reach between 1,700 to 2,200 in that time frame.
"There is great opportunity for Thorsby just around the corner, our future
looks bright, and Town status will help solidify efforts to ensure the continued
growth and opportunity for our community that will be beneficial for everyone."

Mayor Barry Rasch