View All News
JOINT INTERMUNICIPAL PLANNING WORK COMMENCES
August 21 2018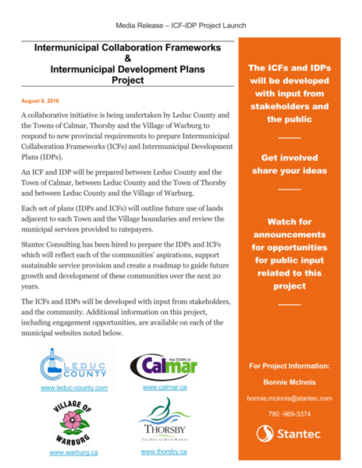 Intermunicipal Collaboration Frameworks & Intermunicipal Development Plans Project
Project Description
The Alberta Government Regulates the operations of all municipalities through the requirements of the Municipal Government Act (MGA). There have been recent amendments to the MGA which now require all municipalities that share a common boundary to prepare Intermunicipal Collaboration Frameworks (ICFs) and Intermunicipal Development Plans (IDPs).
The purpose of these Plans is to collaboratively plan and support sustainable development and service delivery to residents of Alberta municipalities.
A collaborative initiative is being undertaken by Leduc County and the Towns of Calmar, Thorsby and the Village of Warburg to respond to these new provincial requirements to prepare ICFs and IDPs.
An ICF and IDP will be prepared between Leduc County and the Town of Calmar, between Leduc County and the Town of Thorsby and between Leduc County and the Village of Warburg.
The communities of Calmar, Thorsby, Warburg, and Leduc County have retained Stantec Consulting Ltd. to assist with the preparation of these plans.
What is an ICF?
An Intermunicipal Collaboration Framework (ICF) is a tool to facilitate cooperation between neighbouring municipalities to ensure municipal services are provided to residents efficiently and cost effectively.
ICFs reinforce existing collaborations and formalizes a process for municipalities to work together.
Five specific service areas; transportation, water and wastewater, solid waste, emergency services and recreation must be included in an ICF, plus any other deemed of benefit to the municipalities involved. ICFs must also contain an agreed to dispute resolution process to manage disputes that arise regarding the delivery and cost sharing of services after the ICF has been adopted. All municipalities party to the ICF must also have an Intermunicipal Development Plan (IDP) that is compliant with the new MGA requirements.  
What is an IDP?
An Intermunicipal Development Plan (IDP) is a collaborative land use planning process for identified lands of mutual interest between two or more municipalities. This specific initiative is to prepare IDPs between Leduc County and the Town of Calmar, between Leduc County and the Town of Thorsby and between Leduc County and the Village of Warburg.
IDPs ensure that desired long-term growth and development looking beyond 20+ years is not compromised by land use and development decisions made today or by future municipal councils. It also provides assurance to residents that live within the Plan area of future development plans. Both municipalities must agree to the policy direction put forward in the IDP and both municipalities must abide by the IDP. The IDP includes a dispute resolution process for disagreements on whether proposed land use and development proposals are consistent with the agreed to policies in the IDP.
Map showing the IDP boundary between Leduc County and Thorsby.


Opportunity for Public Input
Public engagement is important to the development of these plans. Announcements of opportunities for public input will be posted on our website, through our Facebook page, or in the Thorsby Target or other local publications.