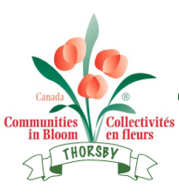 Thorsby CIB and the Town of Thorsby are planning to partner to develop and create an additional trail to the Thorsby Net Work of Trails.
CIB will provide the budget while the town will provide the lane access. This location will be located on 45 Street on the far southeast side of town or east of the Hay Maker Centre. The lane has been a closed lane way for over 20 years and has since grown in with young poplar trees creating an ideal walking area with a level easy walking or biking terrain of 1447 feet.
CIB are proposing to clear an 8 foot path. The trees taken down will create a mulch base through the trees heading north or south. The entrances will only allow for residents or pedal bikes to enter and not motorized sport bikes and will be a walking delight for your pets while on a leash. A garbage can will be located on site at an entrance and we may have access for a few picnic tables and benches to place along the route. This will be Phase 1 with the hope of creating Phase 2 the following year that will be able to connect to our Recreational Fields.
If you have any inquiries we ask that you contact CAO Christine Burke at 780 - 789 - 3935 Ext 28 or email cao@thorsby.ca