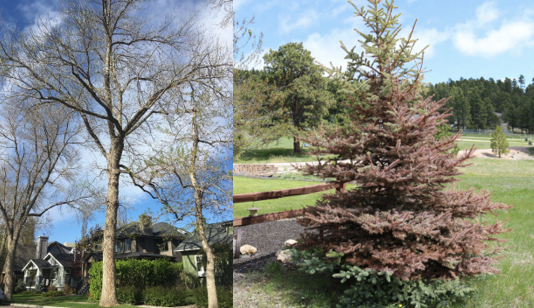 The Dangers of Having Dead Trees on Your Property
Trees add a touch of beauty to a landscape, enhancing the natural colors of the landscape. Like all living organisms, trees will eventually die though.
This typically doesn't happen overnight, as some species are capable of living for more than a century. But external elements like pests, disease and decay can drastically shorten a tree's lifespan, giving it a premature death.
When this occurs, the dead tree may pose a serious risk to you and your family.
Falling Limbs
Among the most common dangers associated with dead trees is the potential for falling limbs. Because the interior of the tree is dry and brittle, there's less weight and structural integrity holding the limbs in place.
As such, even the slightest gusts of wind may cause a limb to break off, placing anyone underneath at risk for injury. And as time progresses, even gravity may cause limbs to break off.
Tree Falling Over
It's not just the limbs that tend to fall off of a dead tree. The entire tree may fall over, as well.
Depending on exactly where the tree is located, it could pose a danger to both you and your home. Therefore, it's important that homeowners monitor their trees on a regular basis, looking for signs of it being dead.
Signs of a Dead Tree:
Bark peeled away
Discolored leaves
Broken limbs
Large cracks and crevices in trunk
Infestation of wood-boring insects
Dealing with a Dead Tree
When removing a dead tree use caution. If you have a large tree, consider hiring professionals to assist in its removal to prevent risk of injury.
The Town of Thorsby asks that you have a look at your property. If a dead tree is located on your property, please take the necessary steps to have it removed this fall. If we can assist with any questions please don't hesitate to call our office.
Thanks!




Thorsby Bylaw Services
Officer - Barry Rasch
Office - 780-789-3935 Ext #21
Cell - 780-233-4151